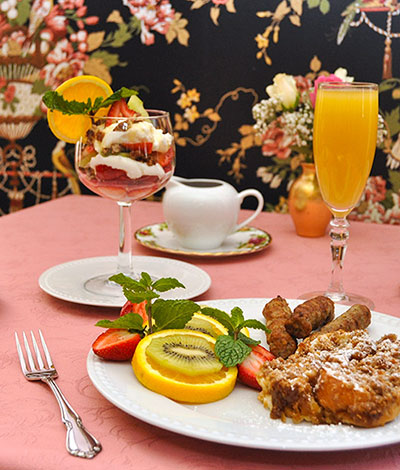 Breakfast
Breakfast at the Mooring is the main event, according to most of our guests. We serve breakfast at tables for two in our dining room between 8:30 and 10:00 each morning. Coffee and tea are available in the dining room beginning at 7:30 for those who get up a bit earlier.
We rework our breakfast menu each season, retaining tried-and-true favorites but also introducing a new selection or two. Each morning guests have their choice of a sweet or a savory entrée, cooked to order by Leslie and served, restaurant-style, by Vince. Leslie's Coconut Crumb French Toast may take the prize for the longest-running favorite in the sweet category, while her spin on Tex-Mex Migas (eggs scrambled with tortilla chips, fresh pico de gallo, cheddar cheese and cilantro) is the savory favorite. Plain scrambled eggs are always offered for those less adventurous eaters (or perhaps less hungry ones!).
Our daily self-serve buffet offers orange-pineapple juice, cranberry juice, and ice water; bread for toasting, butter, and jelly; muffins, scones or a sweet bread; and a beautiful platter of freshly cut fruit. A breakfast highlight is the Greek Yogurt Parfait, which can be ordered as an "appetizer" or a "main". Creamy Greek yogurt is layered with fresh fruit, homemade granola, and a drizzle of local honey … simple and delicious!